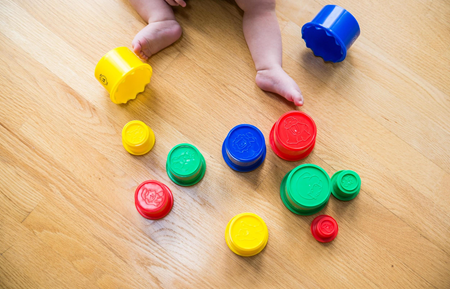 Young children are continually taking in external stimuli and observing the world around them. They take this information and begin to formulate how they interact and view their world. There are steps we can take to help them develop these vital relationships and make sure they are ready for the world as they get older. One way to help stimulate and build an inquisitive nature about their surroundings comes from the toys they play with daily.
This is where Discovery Toys comes into the picture. With our selection of toys for newborns through children eight and older, we strive to help young minds develop and expand through the power of play.
Bright Colors
As babies are first developing, they want to explore their surroundings and learn everything they can about these new experiences. Every new color, texture, or shape is unique to them and can shape how they interact with their environment throughout their developmental stages. By giving them toys that vary in colors, you give them the chance to learn new things and make brand new connections to the world that they didn't have previously.
Developing Eyesight
The best thing you can do for your baby is to give them toys designed to promote the development of different senses. Bright colors help to stimulate their still-developing optic nerves. The colors provide them with something to focus on as they begin to visualize and comprehend people and objects that are further away from their faces.
The brightly colored toys have an added benefit beyond developing their sense of wonder. Brightly colored toys also help babies develop their eyesight. Toys with bright and contrasting colors help maintain the child's attention, encourage curiosity, and stimulate their developing visual acuity.
Multipurpose Toys
Toys such as blocks, rattlers, and musical mobiles serve multiple functions for young childhood development. Using toys that help stimulate more than one sense helps the child learn and develop the necessary skills for everyday life. Cause and effect, hearing, visual acuity, and problem-solving skills are all critical for future development. Having the right toys on hand can help children be better prepared for life outside of their immediate family and get them acclimated to the array of sights and sounds they will encounter.
At Discovery Toys, we provide our customers with the educational toys that your children need to prepare for the larger world. Our products help them develop their senses, gain an appreciation for exploring the world around them, and promote their natural curiosity. Contact our team to learn more about our products and our mission today!
---