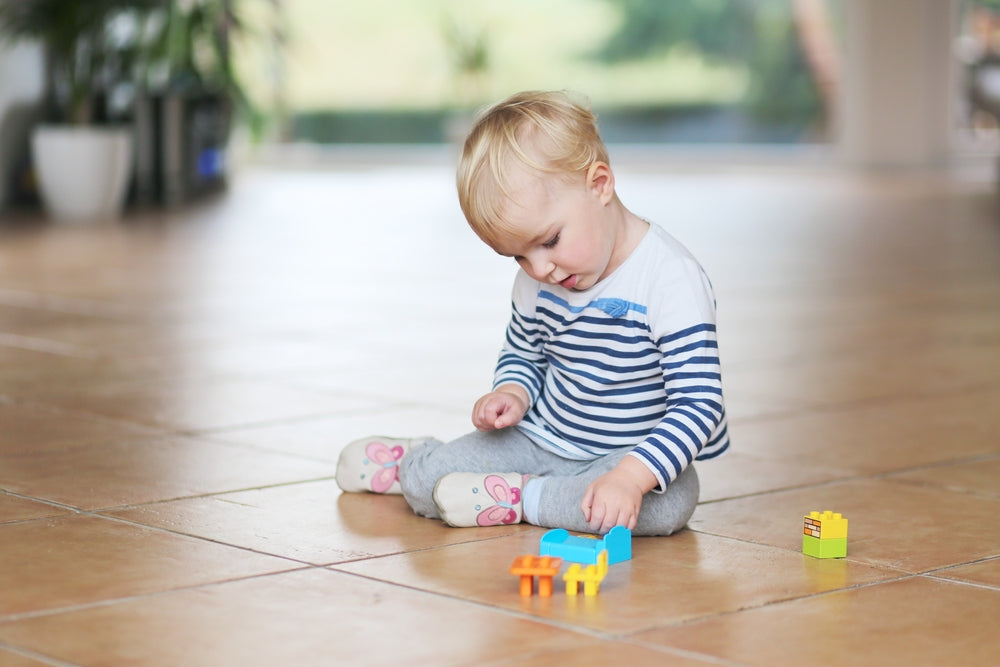 season approaches, it's time to start thinking about the perfect gifts for your little ones. Finding the right presents for a 2-year-old can be both exciting and challenging. This crucial stage of their development is characterized by curiosity, exploration, and rapid growth. To help you make the best choices, we have curated a list of wonderful gift ideas that are not only entertaining but also offer educational benefits.
This blog will explore various options that will engage, stimulate, and inspire your 2-year-old's imagination while aiding their cognitive and physical development.
Building and Construction Sets
Building blocks and construction sets are timeless classics that allow children to explore their creativity and enhance their problem-solving skills. Look for sets made of non-toxic materials, with appropriately sized pieces to prevent choking hazards. Discovery Toys offers a range of early building sets like Castle Marbleworks and Stack & Build Wood Blocks, that will keep your child engaged for hours, fostering their creativity, spatial awareness, and logical thinking.
Early Learning Toys
At this age, toddlers are rapidly developing their language and motor skills. Opt for toys combining entertainment with learning activities to promote cognitive growth. Discovery Toys offers a variety of interactive learning toys and books like Giant Pegboard, Memory Moves, Caterpillar Sort & Stack, and Hoot. These educational products are designed to engage your child's senses while teaching them shapes, colors, numbers, and letters, laying a solid foundation for their academic journey.
Role-playing Toys
Encouraging imaginative play is crucial for a child's cognitive and social development. Role-playing toys allow children to mimic real-life scenarios, helping them understand their world and develop emotional intelligence. Consider gifting your 2-year-old kitchen sets, doctor kits, or toolsets. Discovery Toys offers New Sprouts Puppy Play* and New Sprouts Camp Out* pretend play sets, designed to unleash your child's creativity and nurture their imagination.
Puzzles and Games
Puzzles and games are excellent tools for developing problem-solving abilities, spatial reasoning, and fine motor skills. Look for age-appropriate puzzles with large,easy to grasp pieces. Discovery Toys offers engaging puzzles like the Puzzle Play Trays, We All Belong, Night Owl, Zoo Puzzle Giraffe, and Progressive Puzzles, designed to entertain and challenge your child while boosting their mental agility.
Sensory Exploration
At the age of 2, children are highly curious and receptive to sensory experiences. Toys that stimulate their senses can improve their cognitive, social, and emotional growth. Consider toys with different textures, shapes, and colors, such as sensory balls, squishy blocks, or interactive books. Discovery Toys' Measure Up! Cups, Tactile Pals, Stack & Spin, or Let's Play, Happy Giraffe are perfect for sensory exploration, promoting tactile, visual, and auditory stimulation.
Discovery Toys - Top Learning Toys for Kids
Selecting the right Christmas gifts for your 2-year-old can be overwhelming, but it is an opportunity to provide them with toys that bring joy and foster their development. Opt for toys that engage their imagination, aid in cognitive growth, and provide sensory stimulation. Discovery Toys is a reliable brand committed to providing educational toys that meet the highest safety, quality, and functionality standards.
To explore a wide range of educational and developmentally appropriate toys for your 2-year-old, visit Discovery Toys. With our extensive collection and dedication to promoting learning through play, you are sure to find the perfect gift for your child that will bring smiles and contribute to their growth.
Visit Discovery Toys today to browse our exceptional collection of educational toys, perfect for your 2-year-old's Christmas gift. With our commitment to quality, safety, and child development, you can trust Discovery Toys to provide enriching and engaging toys that will delight your child throughout the holiday season. Invest in toys that stimulate their minds and captivate their imagination, fostering a lifelong love of learning.
*Only available in the 24-30 Months Play Pack
**Only available in the 30-36 Months Play Pack
---